Because life pulls us in all directions and chaos floods our mind, mindfulness is much needed to give us clarity and peace from within. Mindfulness is awareness infused with intention. It means to hyper-focus on purpose, on the present moment with a clear headspace. The practice of mindfulness will offer us a new perspective to view our life afresh, to create a novel relationship with our own mind, body, and people around us.
Not that keen on the usual and formal meditation? There's no need to sit on a cushion with your eyes closed; the key is syncing your breath with your movement as you prep for your workout. Give your workout a mindful makeover because it will:
increase the effectiveness of your workout

decrease your chances of injury

allow you to enjoy your workout more
Here's what we recommend.
1. Attend a yoga class

Image cred: rimakruciene on Unsplash
An asana practice is the perfect place to put your mindful thoughts in motion. Rather than a system of separate postures linked together with breaths, mindfulness will allow your vinyasa to become the moment to moment awareness - one breath per movement. So brush the dust off your mat and start taking that refreshing breath as you start on yoga.
2. Stretch
Ready, set, stretch! Infuse several simple stretches into your day because stretches are not just a precursor to actual real exercise or a post-exercise formality. It allows us to slow down and tune into our bodies in a way no other movement does. But all too often, stretching takes a backseat to our other pursuits which are viewed as more result-driven and useful. Try a short and sweet stretch as quick as pandiculation. Bring both palms to your shoulders, raise your elbows, open your mouth and let out a satisfying yawn to stretch out your ear drums. Let mindfulness seep into your stretches as you bring your attention into the area that you are stretching and breathe into the muscles with ten slow breaths. Notice how your focus and breath will support your body to open up and expand with greater ease.
If you are stretching on a mat, also ask yourself how the mat feels, to develop a deeper connection and attachment to your stretch routine.
3. Breathe
Image cred: maxvdo on Unsplash
Think of breath as mini meditation, a time and a skill to help you deal with stress, negative emotions and sharpen concentration. Mindful breathing has an accumulative impact so the more you practice, the more you benefit and reap. The act of taking a single purposeful breath can make a meaningful contribution to managing stress as well.
It may be better to set aside a designated time to inhale and exhale but feel free to suit your needs. Breathe to this GIF by Mindful to calm and soothe out your stress.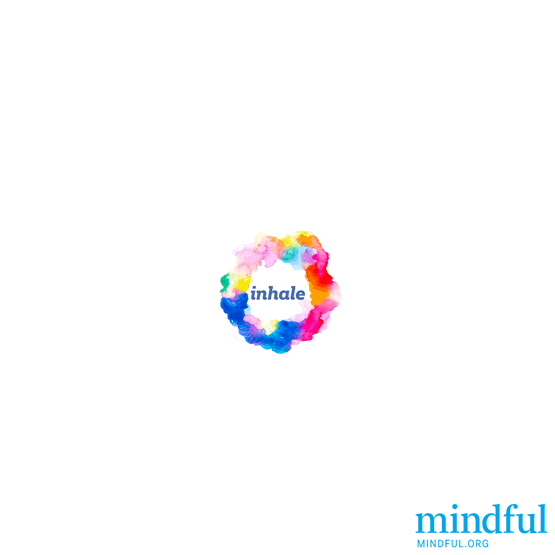 4. Go for a mindful walk

Image cred: anete_lusina on Unsplash
Get up and go for a walk. It could be outside in the outdoors or back and forth in a large room. All you need to do is put one foot in front of the other at your natural pace and focus. Attend to what is around you, think about the weather, the various smells in the air, if you feel tense of stiff (adjust your posture if so) because these are all essential cues to mindfulness.
As hectic as life can get, even a mindful walk to fetch your caffeine fix will make a difference! Go with the flow and make up your own mindful moment-to-moment experience.
Nilufer Tea
Every now and then, you need a cup of tea to help you relax and continue the journey of mindfulness. Nilufer Tea has the perfect calming tea: Lemon & Chamomile Tea. Chamomile is a well-known flower that helps to soothe your nerves, and the citrus perks your mind and body.
Hailing from North India more than 5,000 years ago, yoga has been practised in the pursuit of increasing longevity and rejuvenating the body. Today, yoga is practised all over the world - a recent study by the Yoga Journal revealed that more than 36 million people practice yoga in the United States today. We even had an interview with a dedicated yogini, Shanti Milla who has ascertained the joys that yoga bring, alongside her practice of Tibetan medicine.
Read more here: https://www.nilufertea.com/blog/interview-yogini-shanti-milla/
Yoga's benefits have been touted far and wide by people all over the world - but what exactly is it about holding poses and stretches that is so amazing? Well, lucky for us, we don't have to be hardcore yogis to be able to reap its benefits. Read on to find out 10 things that make yoga so amazing for both our fitness and mind. Before you know it, you'll be stepping onto a mat!
1. Improve flexibility
A huge part of yoga consists of holding poses for a period of time, and thus stretches and loosens the muscles in our body. While you might not be able to do some stretches when you first start out, as long as you continue pushing, your muscles will loosen with time. The increased flexibility from constant stretches can help to relieve frequent pain and muscle aches. One of the most common causes of back pain is tight hamstrings, which results in flattening of the spine. So, hang in there with your poses - don't give up, for a little goes a long way!
2. Improve posture
Thanks to all our bad habits in our daily lives - like craning our necks to look at our phones, or sitting for hours at a desk - we develop bad postures that take a toll on our spine. By incorporating various yoga stretches into our daily routine, we build an awareness of our body that we previously did not have, allowing us to be more mindful of our posture, and whether we are slouching. Of course, with more stretching, our muscles open up and knots untangle, leading to better postures and a more relaxed spine. Try out the Tadasana (mountain pose), or the Vriksasana (tree pose) for 15 minutes a day, and you'll see an improvement in your posture in no time.
3. Boosts emotional health
Apart from boosting our physical health, yoga also has an endless number of benefits for our mental and emotional health. A huge part of yoga encompasses a concept called mindfulness - the act of bringing our awareness to the present and accepting what is occurring without any judgment or reaction. By practising mindfulness through meditation, problems and conflicts we face in our life will seem easier to solve, or get through. Through mindfulness, we learn how to redefine the way we deal with our problems - instead of actively trying to reduce or fight against it, we accept it - and as our perspectives shift, we realise that these problems that are causing us to be unhappy aren't that important after all.
4. Helps with insomnia
A recent study conducted by the Harvard Medical School revealed that yoga tremendously improves sleep quality and quantity for people who suffer from insomnia. Having a meditation and asana routine before bed can help to slow down our mind and body processes, easing the transition into sleep and allowing us to relax just in time for bed.
5. Increase blood flow
The different stretches and poses in yoga aid in relaxation, which promotes blood circulation around the body. Twisting poses such as the Revolved Triangle Pose help to push out venous blood from organs, and allow freshly oxygenated blood to be pumped back into the organs once the pose is released. Also, inverted poses, such as the handstand, pumps blood from the legs and pelvis to the heart to be oxygenated. This can aid if you are facing swelling in your feet or knees.
6. Improves our memory
A huge part of yoga revolves around meditation and concentrating on what is going on right now - which is also known as mindfulness. By regularly training our minds to focus on one thing, we learn how to organise our thoughts and reduce our mental stress from other irrelevant matters. This eventually leads to a more peaceful and stable mind - which allows us to recall things more easily and effectively.
7. Promotes heart health
Although yoga is rarely aerobic in nature, high intensity yoga classes such as Ashtanga classes can boost your heart rate into the aerobic range and get your blood pumping. With a better blood circulation, the risk of heart disease is lowered. Even for patients who have just recovered from a heart attack or heart surgery, yoga is perfect as a form of cardiac rehabilitation as it is less strenuous.
8. Aids in weight loss
By practicing yoga regularly, it encourages us to lead a more active lifestyle which burns more calories and increases our fitness levels. In addition, practicing mindfulness can aid in cultivating healthy eating habits by being aware of our cravings, and thereby reducing the desire to binge or snack due to stress or unhappiness. With an increased sensitivity to hunger cues and a more active lifestyle, a boost to weight loss can be expected.
Now that you're more than acquainted with the immense benefits of yoga, it's time to close your laptop and step onto the mat. Namaste!
There are several perks of being single: opportunities to find your unique voice, time that is completely yours, freedom to explore whatever or whoever you want and a space that only you can fill. However, with the commercialism of Valentine's Day, it is hard to remember these when walking through a mall bombards you with Valentine's Day deals and barely covered babies brandishing arrows. It is no secret that society sometimes tends to overemphasise romantic love at the expense of platonic and even self love. These are some things you could do when you feel the commercialised love getting you down. Embrace the time to grow and enjoy singlehood!
1. Make a good playlist to dance to
You know how before music streaming became a thing, couples used to make mixtapes or burn CDs with meaningful songs for each other? Do that but on your chosen music streaming site and with all the tracks that you love. That's right, pour yourself a glass of wine (or whichever preferred beverage) and bust out those dance moves. Not only is it great exercise, you can shimmy yourself into confidence and a happier life with more endorphins.
2. Treat yourself to good food
Honestly, my first love is food and if you are the same, then this might be the way to go. Treat yourself to buying from your favourite place; never mind about the calories for this one day. Alternatively you could make/bake your favourite dish as well!
3. Watch a movie by yourself
There is something exciting about being able to call the shots. You pick the movie without judgement, the snacks without catering to anyone else and the toilet breaks. You can freely weep or laugh without fear of disturbing anyone else. My choice for the occasion is Pacific Rim. There's a story with enough meat to get into but also is balanced with robots and monsters punching each other.
4. Read a book by a park
I can sense the scepticism so let me tell you why this is perfect for hanging out alone on Valentine's Day. First of all, parks are very relaxing places – pick a place with ample shade and a breeze blowing – and in the midst of nature you can be sure to be energised. Plus in parks you'll be mercifully free from Valentine's Day hype. Add a great book to that and it sounds like a dream come true. I recommend detective stories like Agatha Christie's Destination Unknown or if you would rather be exposed to more than your experience of life I suggest essay collections by people who are different from yourself. I'm reading Scaachi Koul's One Day We'll All Be Dead And None Of This Will Matter which is a lot less sombre than the title will have you expect.
5. Look at Art
Singapore has great exhibitions going on right now. If you want to feel inspired in your own life with the ideas that people have and decided to explore, then this may be something you should think about doing. If spending an afternoon or evening with the works of painting masters is something that excites you then you should definitely check out Century of Light at the National Gallery.
6. Make art
This could be anything! Write something or draw. Take a class in water colour painting, batik printing or stamp making. Freeing your mind from the routine and dabbling in something you have never done before will help to enhance your creativity.
7. Call a good friend
Romantic love is very hyped up this time of year but you know what else important for life? Platonic love. Friends are always there to pick you back up if you fall. Have a friend you have wanted to call and check in with for ages? Now is the time. Not only would a reconnection make you feel good, your friend will probably be happier too.
8. Do some yoga
Taking care of your body and mind is important. What better way to do both as you flow from one pose to another. Take a class, follow along with a YouTube video or even go to a beach to practice.
9. Finish your Chinese New Year errands
A little more on the practical side here but Chinese New Year is right around the corner. If you do not finish the tasks your parents, grandparents, or you yourself assigned at some point you can expect a lot of nagging. So save yourself the headache and finish it tonight.
10. Make a Move on Your Crush
That's right, if you feel like now is the time then let her/him know how you feel. Who knows? Maybe the pre-packed Valentine's Day magic will increase your chances on a date with the person you have been eyeing for weeks now. If you want to see other people attempt to ask their crushes out to fortify yourself, check out the #ValentinesDayChallenge hashtag on Twitter.
Now go forth and make your Valentine's Day special for yourself!
Written by: Annmaria Patteri
Overworked and lacking sleep? What are you stressed about? In our day-to-day routines, stress is inevitable. Your poor soul feels bruised and battered by the various catastrophes on the flip side of the globe or stressful situations in your personal backyard. Your blood boils on a regular basis because of a horrible work environment, strained relationships or even a wearisome commute to work. All these sources of stress exist beyond our control, but we can stop, slow down and de-stress. Here are 5 ways you can regulate your stress and keep your well-being in check.
1. Breathe
Don't operate in your stressed state all the time, mind your breath whilst you can! You may roll your eyes as we tell you to take a deep breath but it takes a mere few seconds and it will allow your troubled mind to relax in under two minutes. Breathing is our second nature and it's an all-natural chill pill, so no matter where you are or however difficult the situation at hand may be, pause for a moment and do a short breathing exercise. Inhale through your nose and exhale through your mouth, holding each breath for seven counts or seconds. Repeat the cycle three times to calm yourself down quick! You can thank us for this fuss-free solution later.
 2. Drink tea
And ah, our favourite method to decompress and reduce stress. Sip your way to leisure and soothe stress-related ailments with some tea, a traditional relaxation technique used to combat stress for centuries. We love a regular cup of white tea (for additional protection against oxidative stress) or a gentle herbal infusion that you can find at Nilufer Tea. In times of crisis, there is nothing else but to keep calm and drink tea. Bonus points if you pick up organic teas from sustainable sources.
 3. Get active
Allow your tensed brain to reset and recover with exercise as it reduces stress hormones and stimulates the production of endorphin, a feel-good hormone that can help foster relaxation. Take a moment to walk through a green space with an abundance of fresh air, swim or attend a yoga class. A short stroll may do wonders to your mind too!
4. Limit your time online
Akin to processed carbs and refined sugars, the vast world of social media will elicit cravings and provide an initial boost of pleasure. Each new notification triggers the release of dopamine, a neurotransmitter which drives us to seek rewards, so you'd keep coming back for more. But, it's a vicious cycle that takes a toll on your mental health in the long run and makes you feel blah afterwards. We'd recommend you unplug and unwind. Try a social media detox for a month or at least shorten your time online. Not every single email, Facebook message or flat-lay of your avocado toast matters.
5. Use aromatherapy
Aromatherapy is an alternative practice which taps into the healing power of scents through essential oils extracted from plants. It is an excellent method for stress-relief as scents are powerful and can impact our bodies through our nervous system. Dilute a few drops of bergamot, lavender or ylang ylang oil with water and let it diffuse into the air. Otherwise, add a drop or two of your favourite essential oil into a carrier oil and rub onto your acupressure points for comfort. Be careful not to rub the essential oil directly on your skin as it is potent and may cause slight burning of your skin.
We hope at least one of our five stress-busters will lead you to a happier, healthier and stress-free life. Remember, weekends are for recovery and relaxation! And nothing beats personal well-being.
Written by Valerie Tan
Loose Yoga Clothes may not be the right one
Wearing something "loose and comfortable" for yoga class may be a little more complex than it sounds, and just like for any form of exercise, the right workout gear would definitely make a huge difference !  Here are some reasons you'll want to equip yourself with proper attire before showing up for your first yoga session.
1. Wardrobe malfunctions are never pleasant
Yoga Pants : Regardless of the yoga class type, pleaseavoid extremely short bottom that constantly ride up, because you'll find yourself pulling them down after every five minutes. I myself find it is really embarrassing to watch it. - oh well it is my personal opinion !
You may want to opt for a pair of leggings, crops or capri for good measure.
Yoga Tops : Women should avoid loose tops as they'll be revealing more skin than you'd like especially when you reach and up side down etc Down Dog (see the image below). Opt for form-fitting tops that stay on your body and keep you covered no matter how you move. This also helps the instructor monitor your core and body alignment, making sure you're doing the poses correctly.
Colour-wise, you may want to settle on darker colours or print pattern, especially if you get sweaty easily. Whatever colour you choose however, make sure the fabric isn't see-through. It is really No No to "wedgie"

2. You want to feel comfortable without being restricted
For yoga wear, avoid anything with buttons, zippers, and bulky drawstrings. These will be uncomfortable when you have to lie face down. They also restrict your movement and may prod into your flesh when you bend and stretch.
Synthetic fabrics specifically made for exercise would be appropriate for most classes. They are usually a spandex-nylon blend, and move along with your body. Also, since your tights will absorb your sweat, be sure to choose a pair with quick-drying fabric to ensure a comfortable session. I like cotton but not for yoga wear because it stretch over the years and lose its shape.
Be mindful of the thickness of the attire you wear, too. Very thick pants can be loose and movable but their weight may interfere with your form. In sum, wear breathable, stretchy leggings, shorts for running and normal casual T shirts instead. You can carry a fitted long-sleeve shirt with you if you think you might feel cold before or after class.
3. To prevent mishaps or accidents

Yoga is usually practiced barefoot. If you don't want to keep your feet bare during practice, you can invest in a pair of specially made toe yoga socks that have rubber grips sewn to the sole.
In addition, if you're prone to calf cramps or soreness, you can wear compression calf sleeves on your lower legs. They allow for complete flexibility too.
With the Christmas season upon us, Christmas markets and pop-ups can be found all over the place. And we could be found at Shop Wonderland last Saturday 2 December 2017.
Holding the first-ever Christmas market, Shop Wonderland has done a fantastic job in arranging for various brands to come in and show their arts and products. We were honored and glad for having the opportunity to be involved in this amazing event.
Being a cafe on normal days, Shop Wonderland has transformed the inner space into an area of festivity with the beauty of different brands and a large Christmas trees. With most holidays, you must have drinks, and that is why Shop Wonderland set up a gin bar outside the shop to bring the seasonal spirit beyond their shop.
It was heartwarming to see so many brand ambassadors sharing what they love, and even the brand creators themselves came down personally to be at their booths and sharing the fruits of their labour with everyone. It was clear that many people have put their heart and soul into the event.
If you have missed us at Shop Wonderland, fret not because we will be having another Christmas market soon! So stay tuned here, our instagram and our facebook for more information in time to come.
Meanwhile, you can still get out tea gift sets here. Nothing says blessings better than organic herbal teas for the wellness of your body and soul.