Because life pulls us in all directions and chaos floods our mind, mindfulness is much needed to give us clarity and peace from within. Mindfulness is awareness infused with intention. It means to hyper-focus on purpose, on the present moment with a clear headspace. The practice of mindfulness will offer us a new perspective to view our life afresh, to create a novel relationship with our own mind, body, and people around us.
Not that keen on the usual and formal meditation? There's no need to sit on a cushion with your eyes closed; the key is syncing your breath with your movement as you prep for your workout. Give your workout a mindful makeover because it will:
increase the effectiveness of your workout

decrease your chances of injury

allow you to enjoy your workout more
Here's what we recommend.
1. Attend a yoga class

Image cred: rimakruciene on Unsplash
An asana practice is the perfect place to put your mindful thoughts in motion. Rather than a system of separate postures linked together with breaths, mindfulness will allow your vinyasa to become the moment to moment awareness - one breath per movement. So brush the dust off your mat and start taking that refreshing breath as you start on yoga.
2. Stretch
Ready, set, stretch! Infuse several simple stretches into your day because stretches are not just a precursor to actual real exercise or a post-exercise formality. It allows us to slow down and tune into our bodies in a way no other movement does. But all too often, stretching takes a backseat to our other pursuits which are viewed as more result-driven and useful. Try a short and sweet stretch as quick as pandiculation. Bring both palms to your shoulders, raise your elbows, open your mouth and let out a satisfying yawn to stretch out your ear drums. Let mindfulness seep into your stretches as you bring your attention into the area that you are stretching and breathe into the muscles with ten slow breaths. Notice how your focus and breath will support your body to open up and expand with greater ease.
If you are stretching on a mat, also ask yourself how the mat feels, to develop a deeper connection and attachment to your stretch routine.
3. Breathe
Image cred: maxvdo on Unsplash
Think of breath as mini meditation, a time and a skill to help you deal with stress, negative emotions and sharpen concentration. Mindful breathing has an accumulative impact so the more you practice, the more you benefit and reap. The act of taking a single purposeful breath can make a meaningful contribution to managing stress as well.
It may be better to set aside a designated time to inhale and exhale but feel free to suit your needs. Breathe to this GIF by Mindful to calm and soothe out your stress.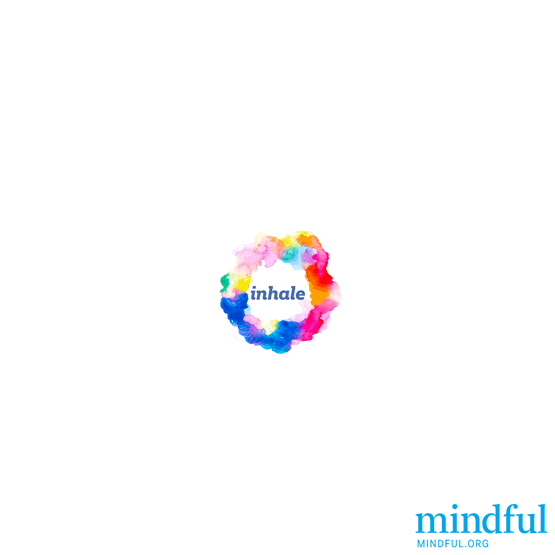 4. Go for a mindful walk

Image cred: anete_lusina on Unsplash
Get up and go for a walk. It could be outside in the outdoors or back and forth in a large room. All you need to do is put one foot in front of the other at your natural pace and focus. Attend to what is around you, think about the weather, the various smells in the air, if you feel tense of stiff (adjust your posture if so) because these are all essential cues to mindfulness.
As hectic as life can get, even a mindful walk to fetch your caffeine fix will make a difference! Go with the flow and make up your own mindful moment-to-moment experience.
Nilufer Tea
Every now and then, you need a cup of tea to help you relax and continue the journey of mindfulness. Nilufer Tea has the perfect calming tea: Lemon & Chamomile Tea. Chamomile is a well-known flower that helps to soothe your nerves, and the citrus perks your mind and body.
What comes to mind at the mention of the word "mindfulness"?
For me, I'd instinctively think of people sitting cross-legged and chanting some sort of mantra in pursuit of an inner calm, but this couldn't be further from the truth. Not all forms of meditation involve chanting – in fact, most don't!
On the contrary, being "mindful" is as simple as being present in one's current circumstances – where a person observes his or her thoughts and feelings without placing value judgment on them.
Although many consider mindfulness to have its core in Buddhist traditions, it is believed that even before the Buddha's birth, mindfulness was already practiced – for example, in Hindu and Taoist traditions. Nonetheless, mindfulness should not be mistaken as a religious practice or trait – at its core, it is the human capability to remain curious about what is happening in one's own mind.
Meditation: A Type Of Mindfulness
There are various ways in which people can practise mindfulness; some people do it through eating clean, but some people seek their center with meditation – a practice which aims to help each and everyone of us to focus and quiet our minds, and this helps us to achieve an inner calm.
Meditation comes from the Latin root "meditatum", meaning "to ponder". Practicing meditation does not make one religious; on the contrary, most practitioners of meditation do so for health and well-being benefits.
Practising meditation generally requires the individual to be in a quiet place and sitting upright with good posture. With a quiet and serene environment, you allow your mind to achieve tranquility.
Types Of Meditations
Even amongst the category of meditation itself, it is worth noting that there are various different styles. Broadly speaking, there are three main types of meditation that branch out into the various forms of meditation available.
These are focused-attention meditation, open monitoring meditation, and automatic self-transcending meditation techniques.
Focused-Attention Meditation
Focused attention meditation is usually the starting point for the novice meditator. It involves focusing one's attention on a chosen object or event, usually anything that involves the individual's use of the senses.
This form of meditation is helpful because it helps the individual regulate attention through building various skills:
The ability to be aware of oneself and allow one to recognise and acknowledge what distracts them. With that self-aware, one can then make peace with it so that that something becomes less distracting to one's daily life
The ability to disengage from a distracting object without further involvement
The ability to re-focus on the chosen object of attention
Examples of meditation practices that take this form of meditation include Buddhist meditation and some forms of qigong.
Open Monitoring Meditation
In open monitoring meditation, the individual observes his or her thoughts without imposing judgment on them.
This form of meditation can be likened to a wide-lens perspective of consciousness. Open monitoring meditation associates the mind with being an open sky where the individual observes their thoughts – represented by clouds – as they pass along their field of awareness.
Examples of meditation practices that take this form of meditation include some types of Taoist meditation.
Automatic Self-Transcending Meditation
A third type of meditation, automatic self-transcending meditation, is designed to rest the mind and body by reducing mental activity. This form of meditation calms the mind.
Additionally, this form of meditation is known to calm the individual's mind – practicing this technique on a regular basis helps the individual develop brain control and hence, he or she is better able to deal with stress.
Nonetheless, it is also worth noting that some techniques might overlap, having elements of more than one category.
Benefits of Meditation
How is meditation so great that advocates, who are simply normal people like you and I, give it so much praises? Why should anyone even consider practising meditation?
Well, for one, the benefits of practicing meditation are copious and encompass various aspects of improved health and well-being. These include an increased self-awareness, improved concentration, and reduced levels of stress and anxiety.
In addition, Harvard Medical School neuroscientist Sara Lazar has supported the benefits of meditation with real neuroscience. She stated that the benefits of meditation are not limited to being 'relaxing'. Instead, mindful meditation can be seen as a type of mental training with cognitive benefits as well.
Getting Started on Meditation
If reading this article has led you to consider meditation but you're not sure where to start, fear not – there are many apps which offer guided meditation for those new to the practice. For starters, try Headspace, which offers video tutorials teaching you how to meditate. These are led by Andy Puddicombe, Headspace's co-founder and a former Buddhist monk. Headspace's lessons are secularized versions of exercises Puddicombe studied.
Headspace is available as an app on both the Apple Store and Google Play.
Meditation and Nilufer Tea
We, at Nilufer Tea, advocate well-being, both in the physical and psychological sense. This is why we hope to spread the word of mindfulness, because we recognise the stress that the modern life brings. With that, we have formulated various blends organic herbal teas can also help one be more relaxed, calm and at ease.
For a calm and relaxing moment, our Orange & Chamomile blend helps to soothe your mind and rejuvenate your senses.