In the "Herb Tea Meeting: The 3rd Party" that was held in September, Nilufer Tea met with many people who were anticipating the lovely event during the relaxing Saturday. The theme of this event is "Mindfulness". Participants get to design their Porsellatz, which is a method of transferring beautiful images (usually of delicate flowers) on porcelain or glass cups. Furthermore, everyone gets to enjoy quality herbal tea to calm their minds and soothe their soul. After all, this is what mindfulness is all about!
What is mindfulness?
Mindfulness is the act of fostering the ability to notice and be aware of your mental and emotional state. 'What are you feeling?' and 'What is my body currently seeking?' are usually questions that bring oneself into the state of mindfulness. This allows your heart and body to heal from the daily stress of life and allow yourself to concentrate on yourself. Self-love.
There are many activities to ignite mindfulness. Zazen meditation – in fact, almost all forms of meditation! – is only one of them. You get to focus on yourself and reset your life. Getting into the state of mindfulness is a new technique of self-care that helps to reduce stress. It is no wonder that big companies such as Google and Goldman Sachs are trying to incorporate them for their employees.
Mindfulness and Herbs
Close your eyes for 5 minutes and imagine herbs and flowers surrounding you. Breathe in the scents deeply and then look at their gentle colours around you. The aroma and colour guide you to a state of relaxation. Isn't that wonderful?
Therefore, the event was created. It is meant to allow everyone to relax and destress using herbs and flowers that can be brew into a soothing tea in a beautiful glass cup. Such a feast to the eyes, nose and mouth!
Psychology and Colours
Colours can affect one's psychology greatly. They have a large influence on people, even if you don't realise it. Based on the colours that surround you, you inevitably feel them and the moods that they represent and embody. That is why colours are often associated with various positive traits and good vibes:
| | |
| --- | --- |
| Red | Energy, Survival |
| pink | Tenderness, calm love, awakening |
| orange | Kindness, association, together |
| yellow | Laugh, Courage, Positive |
| Green | Caring, care, growth, harmony |
| light blue | Self love, freedom |
| Blue | Independence, independence, seeing the truth |
| White | Purity, purification |
| tea | Confidence, effort, peace |
Making Porsellatz
Choose a flower or a design that you love.
Cut the transfer paper.
Wet the paper with water and paste it on the preferred part of the glass cup.
Heat the glass. The yellow part of the paper will burn away to reveal a lovely design.
Enjoy drinking tea from your beautiful cup.
The herb and flower design on the cup makes drinking herbal tea even more elegant and more enjoyable!
The 4th Workshop
In the next workshop, you will learn how to move your pelvic floor muscles to manage menstrual pain and postpartum problems. Herbal teas will be introduced, especially those which can help to warm your body.
Menstrual pain and postpartum problems come about when the pelvic floor muscles become harder and more immobile. These exercises help to improve the following conditions:
Urinary leak after childbirth
Severe menstrual pain
Heavy bottom-half of the body
Even if you don't have the above condition, you can come join us and learn how to improve your pelvic muscles for better mobility.
Below are the details of the workshop:
Date: 9 October 2018 (Tue), 10:30 ~ 12:00
This date is subject to changes so check out our FB page for updates! We look forward to meeting you and spending a wonderful time with you.
Because life pulls us in all directions and chaos floods our mind, mindfulness is much needed to give us clarity and peace from within. Mindfulness is awareness infused with intention. It means to hyper-focus on purpose, on the present moment with a clear headspace. The practice of mindfulness will offer us a new perspective to view our life afresh, to create a novel relationship with our own mind, body, and people around us.
Not that keen on the usual and formal meditation? There's no need to sit on a cushion with your eyes closed; the key is syncing your breath with your movement as you prep for your workout. Give your workout a mindful makeover because it will:
increase the effectiveness of your workout

decrease your chances of injury

allow you to enjoy your workout more
Here's what we recommend.
1. Attend a yoga class

Image cred: rimakruciene on Unsplash
An asana practice is the perfect place to put your mindful thoughts in motion. Rather than a system of separate postures linked together with breaths, mindfulness will allow your vinyasa to become the moment to moment awareness - one breath per movement. So brush the dust off your mat and start taking that refreshing breath as you start on yoga.
2. Stretch
Ready, set, stretch! Infuse several simple stretches into your day because stretches are not just a precursor to actual real exercise or a post-exercise formality. It allows us to slow down and tune into our bodies in a way no other movement does. But all too often, stretching takes a backseat to our other pursuits which are viewed as more result-driven and useful. Try a short and sweet stretch as quick as pandiculation. Bring both palms to your shoulders, raise your elbows, open your mouth and let out a satisfying yawn to stretch out your ear drums. Let mindfulness seep into your stretches as you bring your attention into the area that you are stretching and breathe into the muscles with ten slow breaths. Notice how your focus and breath will support your body to open up and expand with greater ease.
If you are stretching on a mat, also ask yourself how the mat feels, to develop a deeper connection and attachment to your stretch routine.
3. Breathe
Image cred: maxvdo on Unsplash
Think of breath as mini meditation, a time and a skill to help you deal with stress, negative emotions and sharpen concentration. Mindful breathing has an accumulative impact so the more you practice, the more you benefit and reap. The act of taking a single purposeful breath can make a meaningful contribution to managing stress as well.
It may be better to set aside a designated time to inhale and exhale but feel free to suit your needs. Breathe to this GIF by Mindful to calm and soothe out your stress.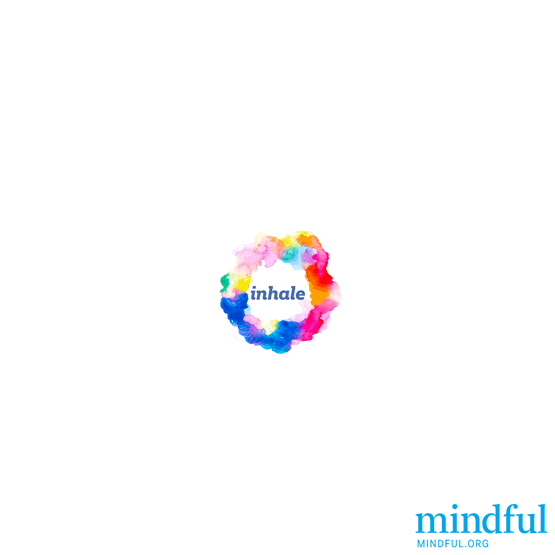 4. Go for a mindful walk

Image cred: anete_lusina on Unsplash
Get up and go for a walk. It could be outside in the outdoors or back and forth in a large room. All you need to do is put one foot in front of the other at your natural pace and focus. Attend to what is around you, think about the weather, the various smells in the air, if you feel tense of stiff (adjust your posture if so) because these are all essential cues to mindfulness.
As hectic as life can get, even a mindful walk to fetch your caffeine fix will make a difference! Go with the flow and make up your own mindful moment-to-moment experience.
Nilufer Tea
Every now and then, you need a cup of tea to help you relax and continue the journey of mindfulness. Nilufer Tea has the perfect calming tea: Lemon & Chamomile Tea. Chamomile is a well-known flower that helps to soothe your nerves, and the citrus perks your mind and body.
Hailing from North India more than 5,000 years ago, yoga has been practised in the pursuit of increasing longevity and rejuvenating the body. Today, yoga is practised all over the world - a recent study by the Yoga Journal revealed that more than 36 million people practice yoga in the United States today. We even had an interview with a dedicated yogini, Shanti Milla who has ascertained the joys that yoga bring, alongside her practice of Tibetan medicine.
Read more here: https://www.nilufertea.com/blog/interview-yogini-shanti-milla/
Yoga's benefits have been touted far and wide by people all over the world - but what exactly is it about holding poses and stretches that is so amazing? Well, lucky for us, we don't have to be hardcore yogis to be able to reap its benefits. Read on to find out 10 things that make yoga so amazing for both our fitness and mind. Before you know it, you'll be stepping onto a mat!
1. Improve flexibility
A huge part of yoga consists of holding poses for a period of time, and thus stretches and loosens the muscles in our body. While you might not be able to do some stretches when you first start out, as long as you continue pushing, your muscles will loosen with time. The increased flexibility from constant stretches can help to relieve frequent pain and muscle aches. One of the most common causes of back pain is tight hamstrings, which results in flattening of the spine. So, hang in there with your poses - don't give up, for a little goes a long way!
2. Improve posture
Thanks to all our bad habits in our daily lives - like craning our necks to look at our phones, or sitting for hours at a desk - we develop bad postures that take a toll on our spine. By incorporating various yoga stretches into our daily routine, we build an awareness of our body that we previously did not have, allowing us to be more mindful of our posture, and whether we are slouching. Of course, with more stretching, our muscles open up and knots untangle, leading to better postures and a more relaxed spine. Try out the Tadasana (mountain pose), or the Vriksasana (tree pose) for 15 minutes a day, and you'll see an improvement in your posture in no time.
3. Boosts emotional health
Apart from boosting our physical health, yoga also has an endless number of benefits for our mental and emotional health. A huge part of yoga encompasses a concept called mindfulness - the act of bringing our awareness to the present and accepting what is occurring without any judgment or reaction. By practising mindfulness through meditation, problems and conflicts we face in our life will seem easier to solve, or get through. Through mindfulness, we learn how to redefine the way we deal with our problems - instead of actively trying to reduce or fight against it, we accept it - and as our perspectives shift, we realise that these problems that are causing us to be unhappy aren't that important after all.
4. Helps with insomnia
A recent study conducted by the Harvard Medical School revealed that yoga tremendously improves sleep quality and quantity for people who suffer from insomnia. Having a meditation and asana routine before bed can help to slow down our mind and body processes, easing the transition into sleep and allowing us to relax just in time for bed.
5. Increase blood flow
The different stretches and poses in yoga aid in relaxation, which promotes blood circulation around the body. Twisting poses such as the Revolved Triangle Pose help to push out venous blood from organs, and allow freshly oxygenated blood to be pumped back into the organs once the pose is released. Also, inverted poses, such as the handstand, pumps blood from the legs and pelvis to the heart to be oxygenated. This can aid if you are facing swelling in your feet or knees.
6. Improves our memory
A huge part of yoga revolves around meditation and concentrating on what is going on right now - which is also known as mindfulness. By regularly training our minds to focus on one thing, we learn how to organise our thoughts and reduce our mental stress from other irrelevant matters. This eventually leads to a more peaceful and stable mind - which allows us to recall things more easily and effectively.
7. Promotes heart health
Although yoga is rarely aerobic in nature, high intensity yoga classes such as Ashtanga classes can boost your heart rate into the aerobic range and get your blood pumping. With a better blood circulation, the risk of heart disease is lowered. Even for patients who have just recovered from a heart attack or heart surgery, yoga is perfect as a form of cardiac rehabilitation as it is less strenuous.
8. Aids in weight loss
By practicing yoga regularly, it encourages us to lead a more active lifestyle which burns more calories and increases our fitness levels. In addition, practicing mindfulness can aid in cultivating healthy eating habits by being aware of our cravings, and thereby reducing the desire to binge or snack due to stress or unhappiness. With an increased sensitivity to hunger cues and a more active lifestyle, a boost to weight loss can be expected.
Now that you're more than acquainted with the immense benefits of yoga, it's time to close your laptop and step onto the mat. Namaste!
In our modern, diet-obsessed culture amidst an abundance of food, we often have a love-hate relationship with food and feel guilt for our mindless consumption. Our fast-paced lifestyle can leave little time for us to truly tune into our needs, and daily activities, such as eating, lend themselves more to this state of autopilot than others.
We encourage you to cultivate an intuitive and mindful eating practice – to consume food with attention and intention, to be aware of the nourishment available through the process of various food preparation and to appreciate the nutritional qualities of food. Zen your diet and read on for super doable tips on how to become a mindful eater.
1. Know your body's personal hunger signals
Is your desire to munch on food an environmental trigger, an emotional response or of true physical hunger? Before you reach for those chocolates, pause and tune into your body. Is your stomach growling? Do you feel thirsty or lightheaded? Are you bored at work? Sometimes, we feel hungry simply because of our psychological state of mind, and not truly because our body is hungry for fuel.
Ask why you want to eat and if you really need to eat. Don't eat just because there is food around, but don't wait till you're famished either. Such a pattern will cause you to overeat, lead to guilt and eventual excessive weight gain. You can even help to bolster the habit of excessive eating by drinking beverages such as tea to improve your well-being. Nilufer Tea offers a unique and interesting selection of organic herbal teas that can help to improve your mood and body.
2. Know your food
Mindfulness is really about rekindling a relationship with food and connecting with the stories behind our food. Think about the source of your food item, consider its origins, journey and health value, read the nutritional labels with more intent. What country did this food item start its journey in? How has it been processed, cooked or prepared? As you become more aware, you may even decide to choose to purchase organic, unprocessed and ethical foods and groceries in the future.
3. Adopt an attitude of gratitude
Acknowledge the time and effort that has been put into your food. Take some time, perhaps even just a few seconds, to think about the ingredients on your plate, the time needed to prepare the food, and also the intention behind all the effort that entered the plate. Thank your server or the person who prepared the food. A little gratitude promotes satisfaction and mindful habits.
4. Attend to your plate
Multitasking and eating all at once is a recipe for chaos. It distracts and disallows us to listen to our bodies' needs. Remember how you went to the movies with a tub full of popcorn and before the advertisements were over, you realised your tub was almost finished? To be mindful, we need to be present and we can't be present when we're multitasking. It's akin to meditation; it's difficult to meditate when our thoughts are drawn elsewhere. In a similar vein, it's a challenge to notice our bodies' satiety signals and savour our food if our attention is scattered or plugged to our devices.
With your next meal, try to attend to your plate without your emails, a magazine or the latest episode on Netflix. Be attentive to the aroma, colour, texture of the different foods on your plate and as you chew, try to identify all the ingredients, seasonings and more. And if you are eating with someone, make conversation instead of gluing your eyes on your phones.
5. Eat better, eat clean
Make a conscious choice to eat healthier, wholesome foods or even go vegan! Mindful eating is not a weight loss cure-all, but it can catapult healthful weight loss as it shapes your food philosophies and bodies at the same time.
See beyond the rim of your plate, see the dangerous toll that some processed meats and dairy products can take on your bodies, and the destruction that meat production and dairy farming has on the environment. Consume foods that are all-natural, unrefined and minimally handled, foods which are closest to their natural form as possible. But of course, do note that eating clean does not give you free reign to eat endless quantities. Think about portion size control and only eat till you're full.
Eating clean and mindfully is a continuous process which requires diligence but once you begin to get into the swing of things, it's almost effortless! Mindful eating may be integrated into any routine overtime so embrace this new approach to mealtimes and you might find that it offers a renewed sense of enjoyment, inner peace and health. It's not just what you eat, but how you eat that matters.